Turmeric - What are Turmerics Benefits and Uses?
You've probably heard of turmeric before—it's the spice that makes curries and mustard yellow in color. Maybe you've even seen it available as a supplement at your local health-food store. That turmeric powder in capsules and spice bottles comes from a root that is dried and ground. However, an option you probably have heard less about is Turmeric essential oil. Turmeric oil is a much more powerful choice when it comes to using this spice for various health benefits. 
Turmeric Oil Uses and Benefits
Turmeric oil may help support a healthy

 

nervous system, as well as cellular function.* When you're feeling like your nervous system is out of balance or needs calming, add Turmeric oil to coconut milk and honey for a delicious drink.
 
The soothing benefits of Turmeric oil can be utilized by taking one to two drops in a Veggie Capsule. Doing this on a regular basis gives your body the antioxidant support it needs to protect your body from free radical damage. It may also support healthy immune function as well as immune response.*
 
It is nearly impossible to go through life without facing some trouble, but we can take control over our emotions. Give yourself a boost by diffusing Turmeric throughout your home to provide yourself with an emotionally uplifting environment and thereby improve your mood.
 
Turmeric has the ability to support healthy glucose and lipid metabolism. To better support your metabolism, take one to two drops of Turmeric in at least four ounces of water.* 
 
This spicy oil is actually a wonderful oil to use on your skin. Customize your facial moisturizer by adding a drop of Turmeric before applying, to help support overall clean and healthy looking skin. Turmeric can also be used as a spot treatment to naturally reduce the appearance of blemishes. 
 
Take advantage of the subtle spicy and peppery flavor of Turmeric by adding a drop or two to scrambled eggs or frittatas, plain rice, or soups. You can also add it to sautéed greens for a peppery flavor. The added bonus to cooking with Turmeric oil? It also allows you to reap the other internal benefits of Turmeric we mentioned before.
 
Incorporate Turmeric oil into your recovery routine after strenuous activity for a soothing experience. In your palm, add a few drops Turmeric to Fractionated Coconut Oil and massage into your skin where you need relief most.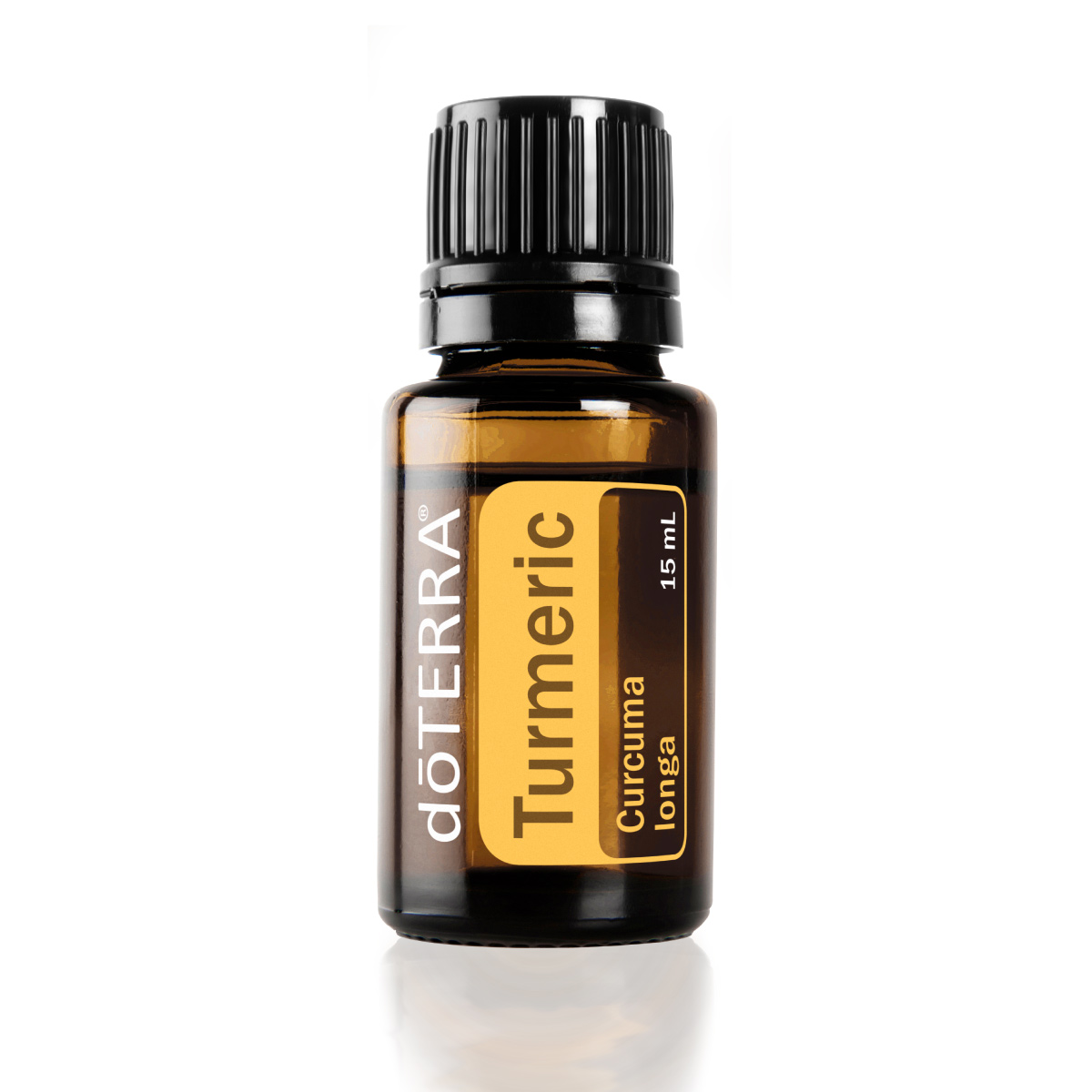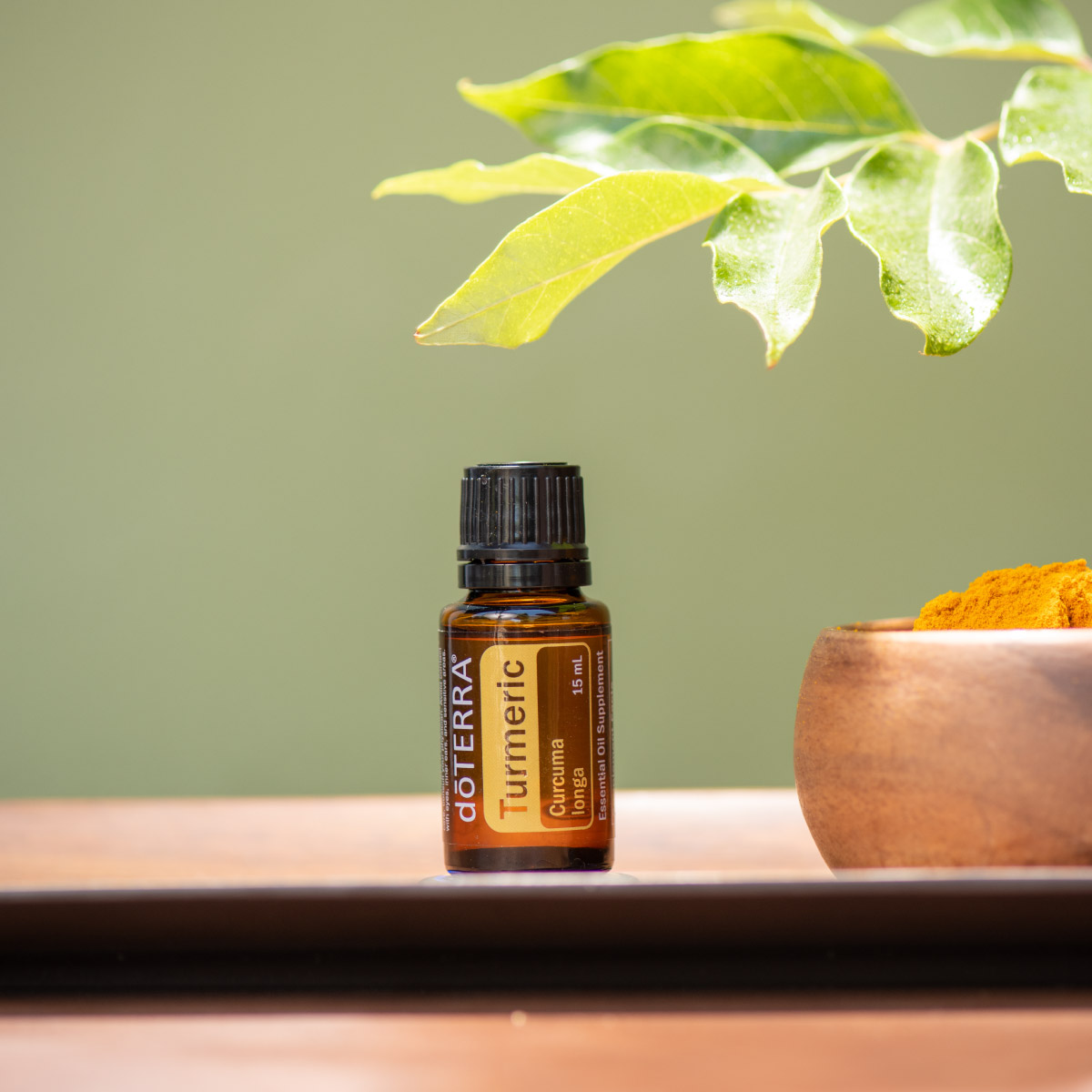 Fun Fact
doTERRA Turmeric is steam distilled from the rhizomes or roots of the Curcuma longa plant.
Plant Description
The turmeric plant (Curcuma longa) is a perennial flowering plant from the ginger family (scientifically known as the Zingiberaceae family). The plant itself does not grow wild, but where it is cultivated it can grow to more than three feet in height. Both the oil and the root have been used in Asia for thousands of years in Ayurvedic health practices.
Chemistry of Turmeric Oil
Turmeric oil contains the chemical components ar-Turmerone and Turmerone. Both components have been shown to help our bodies with the absorption of curcumin, a strong antioxidant and the main compound actually found in raw turmeric root and turmeric extract. 
Sourcing
Sourced from various parts of India and Nepal, turmeric farming is done by both men and women. Women typically task themselves with sorting the harvested turmeric roots into various grades, similar to how women in Somalia sort the resin tears for Frankincense oil.
These farmers sometimes use turmeric roots as an "intercrop", meaning they grow it alongside crops such as corn and sugarcane. This provides numerous benefits to the farmers like the possibility of higher income per unit of soil, and further insurance against having a crop fail. It also helps keep the soil fertile, and reduces weeds and soil runoff.
Oils that Blend Well with Turmeric
Other spice oils blend with with Turmeric oil, including Cinnamon Bark, Ginger, and Cardamom. Wild Orange, Grapefruit, and Ylang Ylang are also great blending options.
Cautions
Possible skin sensitivity. Keep out of reach of children. If you are pregnant, nursing, or under a doctor's care, consult your physician. Avoid contact with eyes, inner ears, and sensitive areas.
As always, I love to see what you get up to at home and to see photos/hear your feedback. Please share your photos with me by tagging me in on Facebook or Instagram @tmapothecary.
Guides are given for personal use only and are not approved for re-distribution unless given prior concent. You may print them out, providing they are not re-distributed.Thanks for ready, enjoy Jojo xXx
If you would like to find out more about how you can purchase doTERRA and start saving today (and find out more about all of the benefits that come with it), visit my essential oil page here.
 *These statements have not been evaluated by the Food and Drug Administration. Whilst essential oils can support your health, this product is not intended to diagnose, treat, cure, or prevent any disease. It's important to remember that nutritional/herbalist therapy is not intended as a substitute for medical advice. 
Turmeric - What are...

You've probably heard of turmeric before—it's the spice that makes curries and mustard yellow in color. Maybe you've even seen it available as a ...

Read More

Tea Tree Oil - (Mel...

Tea Tree Oil Tea Tree oil (Melaleuca oil) possesses over 92 different compounds and, as such, possesses almost endless ways it can be used for w...

Read More

Geranium Oil - What...

Geranium Essential OilUsed as a beautifying agent in Ancient Egyptian times, Geranium essential oil is extracted from the entire geranium plant...

Read More